Universal Preservation Hall Announces a Wedding, Taylor Swift Dance Party and One of the Country's Most Popular Folk Bands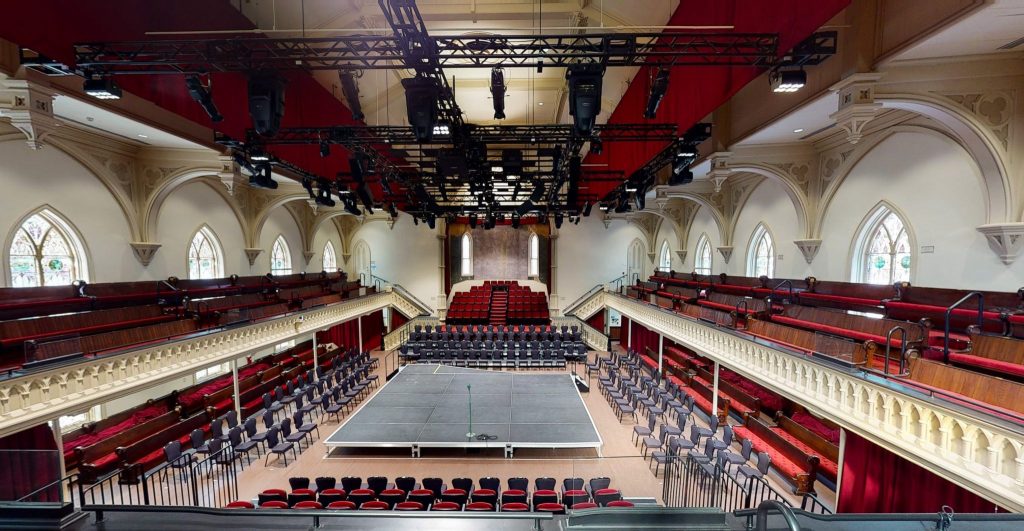 SCHENECTADY (Oct. 31) – The Brooklyn Nomads is a celebrated cross-cultural ensemble rooted in musical traditions from the Arab world, with a mission to create memorable experiences for its audiences. They will be the third concert in the Music Haven Passport Series, performing 7:30 p.m. Friday, Nov. 3 in the GE Theatre at Proctors.
The ensemble has performed at The Kennedy Center, TED, Joe's Pub, MIT, Le Poisson Rouge and others. Interpreting Arab folk music through cultural and musical backgrounds as diverse as Brooklyn itself, The Brooklyn Nomads put a multicultural spin on a traditional Arabic repertoire and bring it to a wide audience around the world. By sharing their innovative interpretations with a broad range of audiences, The Brooklyn Nomads foster cross-cultural collaboration and appreciation through the language of music. The rich ecosystem of NYC permitted this group to come to life: musicians from different continents and distinct backgrounds creating a hybrid of transcendent sounds.
The collective is full of talented musicians who all specialize in various facets of musical expression. Joining the performance at Proctors is the artistic director Hadi Eldebek, who has collaborated with prominent figures and institutions in arts, culture and education sectors including, but not limited to, Yo-Yo Ma and Disney World Imagineering. His TED Talk, discussing the importance of funding the arts and artists, has gone viral with over 1.25 million views.
SARATOGA SPRINGS (Nov. 2) – Universal Preservation Hall is announcing two interactive musical experiences and a can't-miss progressive folk-root journey.
Coming up in a little over a week is Country Kickers & Friends "Saratoga Stomp"–Country Line Dance Workshop & Dance Party. CMA Winner Kevin Richards with Mark Petrie and Cheryl Howe will lead first timers with a beginner boot scooter camp and award-winning instructors John Robinson, Paula Frohn and Guylaine Bourdages will lead experienced line dancers 1 p.m. Sunday, Nov. 12.
2024 is kicking off with a wedding at UPH! "Tony n' Tina's Wedding" is a one-of-a-kind night theatrical experience like no other, coming to the Great Hall Thursday, Jan 18- Sunday, Jan. 21 for six performances. Everyone is a welcome guest at the ceremony and reception, there's real food, real dance, and real mingling with the cast of lovable characters. It's an Off-Broadway comedy staged as a festive celebration in which the audience doesn't just watch the show but participates directly in the fun as members of the family or friends of the bride and groom. "The show's history spans back to its first performance in 1985, and since then, besides performing stellar shows, 'Tony n' Tina's Wedding' has connected countless couples. Between cast and audience members, dozens of couples have been set up for lifelong partnerships" (datingadvice.com).
It's time to enter a laser dance party era with the "Taylor Swift Laser Dance Party." A place for Swifties to grab their friendship bracelets and sparkly outfits and join in the Great Hall 7:30 p.m. Saturday, Jan. 27 for a two-hour Taylor Swift live DJ set with a national touring laser light show.
Throughout their notable career, Canadian group Leahy has secured a place as one of the country's most highly regarded progressive folk-roots bands. Leahy will be in the Great Hall 7:30 p.m. Friday, March 15. The "Leahy sound"–a combination of strong stride piano, driving rhythm guitar, unique bass lines and layered with a contemporary drumming style – was the foundation from which wildly talented fiddle-led instrumentals and vocals were launched to mainstream music listeners. For Leahy there are no boundaries–the band's genuine love of such a diverse range of music fuels their uncompromising creativity and, by refusing to be bound to the conventions of any one genre, they have forged a truly distinctive reputation.
Tickets are available through the Box Office at Proctors in-person, via phone at (518) 346-6204 Monday-Saturday 10 a.m.-6 p.m. or online at universalpreservationhall.org. Groups of 10 or more can get their tickets by calling (518) 382-3884 ext. 139.