Jim Brickman, Judy Collins, Holiday Favorite "It's a Jazzy Christmas" and More Kicking Off The Holidays at Universal Preservation Hall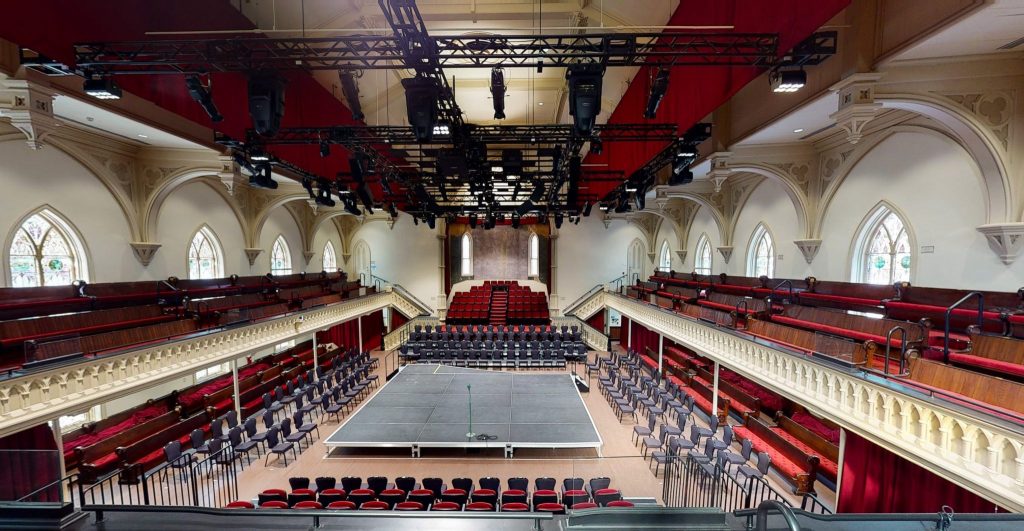 SARATOGA SPRINGS (Nov. 3) – Universal Preservation Hall is ringing in the season with five holiday-themed shows coming to Saratoga Springs in the next couple of months. Tickets are available through the Box Office at Proctors in-person, via phone at (518) 346-6204 Monday-Saturday 10 a.m.-6 p.m. or online at universalpreservationhall.org.
Jim Brickman is the best-selling solo pianist of our time, earning 21 number-one albums, 32 Top 20 radio hits and two GRAMMY nominations and next, he'll be in the Great Hall 7:30 p.m. Friday, Nov. 17. Jim Brickman will wow the crowd with his uplifting, "HITS LIVE! with A Little Bit of Christmas" concert. The GRAMMY-nominated songwriter gets up close and personal in this intimate setting with his hit songs "Love of My Life" "Valentine" and "Angel Eyes" plus a few holiday favorites like "The Gift."
Join Natalie, Donnell and the MacMaster-Leahy kids as they take to the stage for "A Celtic Family Christmas," their beloved show where they share their favorite holiday music and traditions with audiences. Award-winning fiddle virtuosos Natalie MacMaster and Donnell Leahy celebrate the holidays with an unforgettable evening of music, dance and storytelling for the young and the young at heart. Natalie MacMaster and Donnell Leahy Present: A Celtic Family Christmas will be at UPH 7:30 p.m. Friday, Dec. 1.
Nacre Dance Group will be performing Charles Weidman's "Christmas Oratorio" for two performances, 1 p.m. and 5 p.m. on Sunday, Dec. 10. For both performances, there will be a holiday tea optional add-on with treats provided by Chocolate is Self-Care and a demonstration an hour before the performance. After the performance, the audience is invited to decorate our dance tree with a holiday message and meet the costumed cast members for a photo opportunity. Weidman's masterful choreography combined with Bach's passionate music makes this a moving and unforgettable experience for dancers and audiences.
"It's a Jazzy Christmas" is returning to the Great Hall 7:30 p.m. Friday, Dec. 15 (with a Dec. 16 performance at Proctors in Schenectady). Wrapped in the theme of a radio drama, the ensemble takes the audience on a holiday ride through decades of great classic music and fun radio serial interludes featuring the music of Vince Guaraldi from the Peanuts holiday specials and many other seasonal favorites!
Award-winning singer-songwriter Judy Collins is esteemed for her imaginative interpretations of traditional and contemporary folk standards and her own poetically poignant original compositions. She's garnered several top-ten hits and gold- and platinum-selling albums. Next, she'll be taking on the Great Hall 7:30 p.m. Saturday, Dec. 16 with "Holidays & Hits." Her luminescent presence shines brightly as new generations bask in the glow of her iconic 60-album body of work, and heed inspiration from her spiritual discipline to thrive in the music industry for half a century.